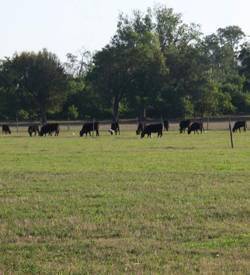 Many years ago, we made the commitment to build a herd of Angus cattle that could produce quality bulls that we could use in our own herd of commercial cattle. After bringing in bulls from out of state to use on our commercial cattle over the years and watching them melt away in the Florida heat, it was apparent that if you are going to use bulls in Florida, they must be raised in Florida.
Here at Petteway Citrus & Cattle, our bulls are raised with 3 things in mind: scrotal, soundness and size. Scrotal circumference is key to raising a bull that will have enough sperm production to get your cows bred. That's why we produce bulls that at 365 days (or 1 year old) have a 36cm scrotal size. When you hear a cattleman discussing soundness of a bull, you should be looking at the feet and legs of the animal you are purchasing. We offer you bulls that are structurally correct and have a good stride.
If they have any sort of problems such as sickle hocked, bent knees or post legs, these bulls are castrated and culled. Bulls with these problems can develop soreness which will hinder their ability to travel across the field and breed cattle. Finally, we come to the size of our bulls. The bulls that are raised on our ranch are of moderate size and height. We strive to offer bulls that are not overly large in one certain area, but they are just right in ALL areas. When you come to the ranch to purchase a bull, you will notice that they are not going to be butterball fat. A bull should have enough fat cover to make his sides look smooth. An overly fat bull will have a low quality sperm count and in turn will not impregnate your cattle. When bulls are purchased from our ranch, they are ready to go to work for you when you get home.
To raise good bulls, you must have good mothers. It's amazing how such a simple statement can have such large implications. Raising high quality seedstock bulls starts with the evaluation and breeding of good mothers. During the establishment of our herd, we traveled the southeast selecting quality cattle that we felt would work in our environment. These were cows that were not only sound in their phenotype, but had an excellent pedigree. Some of the cattle families we have established in our herd are the Forever Lady lines, Erica lines, Lemmon Beauty lines and Everelda Entense lines. When you look at the type of females we raise out of these great lines, you will see cows with tremendous mothering ability. Our cattle give everything to their calves and they look great doing it. Our Angus cattle are wide-hipped, deep gutted and are extremely functional milkers.
When the breeding seasons come around, we select AI bulls that have been proven through offspring, not flash in the pan bulls. This way we can offer you a more consistent product for your money. We match up the bulls' EPD's to our females and determine what will give us a more viable offspring. Using EPD's allows us to improve areas of a cow through proper breeding. GDAR Game Day, SAV Heritage, BC Eagle Eye, BC 7022 Raven, and Dunlouise Jipsey Earl are some of the popular AI sires we are using this season. So, whether you're looking for a replacement heifer for your herd or a quality bull to improve your calves, here at Petteway Citrus & Cattle we have everything you need to increase profitability in your herd.